Gluten Free Surprise Box!

If you would like a selection of our latest gluten-free brownie flavours, then this box is what you need! We'll include at least three of our gluten free brownies, perfect for those with gluten intolerance, although sadly not suitable for coealiacs.

These unbelievably decadent plant-based brownies are free from eggs and dairy but you would never guess they are vegan!
Tracked shipping

Letterbox friendly

Secure Payments
The perfect choice
What's in the box?
At least three different flavours are included in our wonderful surprise box! May contain nuts, will avoid gluten but not suitable for coealics.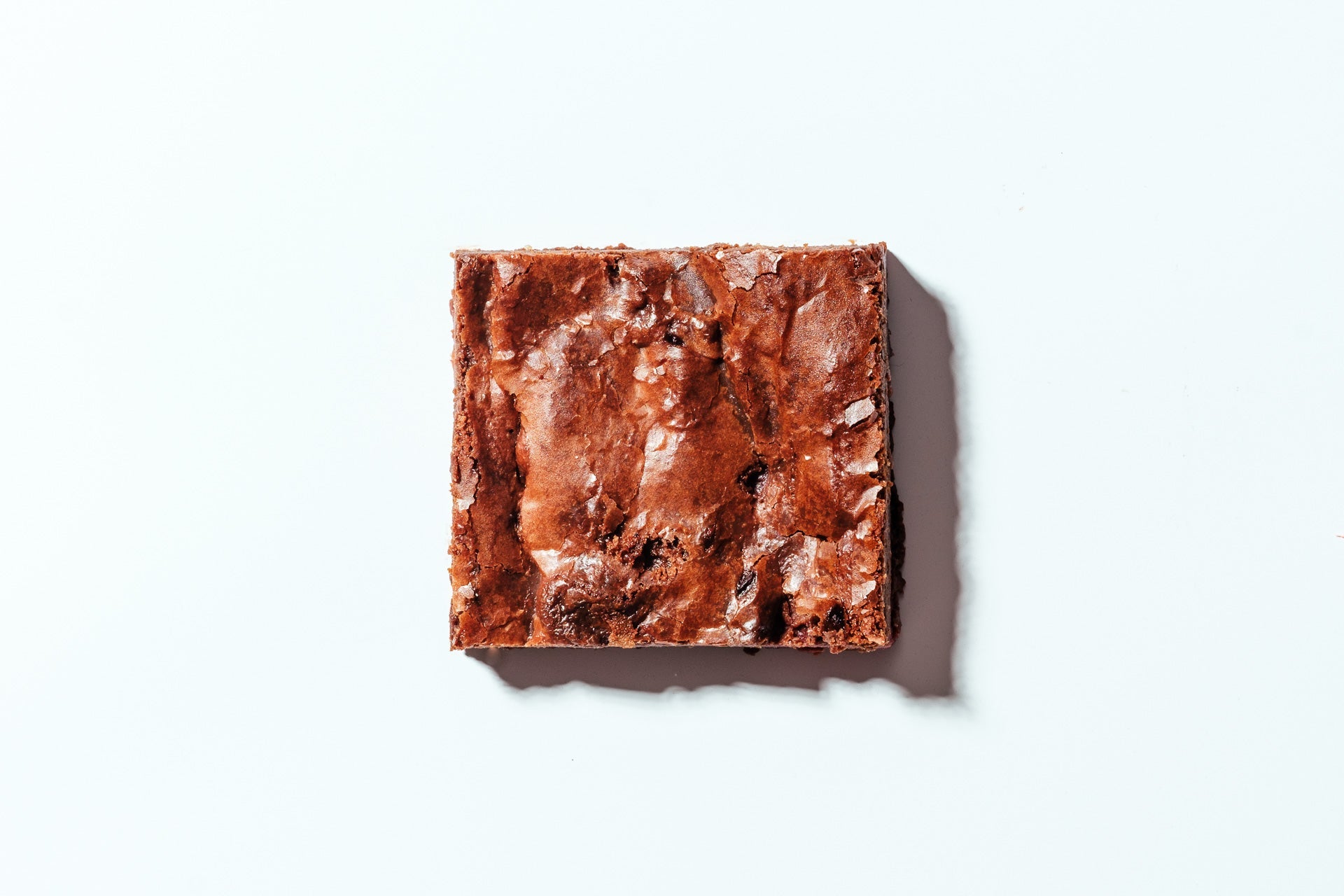 Gluten Free Surprise Flavours
Our Gluten Free Surprise Brownies are a selection of our freshly baked flavours available that day that are without gluten. There will be at least three different flavours in a box of six brownies and at least five different flavours in a box of ten brownies. Because of the chance of cross-contamination, we cannot recommend these brownies for coealiacs.
Gluten Free Surprise Flavours
All ingredients and allergens will be included with your brownies. Although we will only include gluten free brownies in your order, these is the chance of cross-contamination as we handle gluten in the kitchen, therefore our brownies are not suitable for coeliacs. All our brownies contain SOY. Some gluten free flavours will contain NUTS, PEANUTS and SULPHITES. As is the case with all our products, we cannot guarantee against traces of peanuts, nuts, gluten in any of our brownies, which may be present as a result of cross-contamination in out bakery. In addition, whilst our bakery is milk-free, we cannot guarantee that all of out ingredients are produced in milk-free environments. We therefore cannot recommend our products to customers with severe peanut, nut, gluten or milk allergies. Thank you for your understanding.
How to store
Our brownies are best kept in an airtight box in the fridge so they stay gooey and delicious. They will keep for 14 days from the baked date but best eaten fresh. Enjoy them cold or pop them in the microwave for 10 - 30 seconds for a sumptuious snack.

WHY CAKE OR DEATH?
The most delicious brownie!
Beautifully packaged in a hot pink leopard print, the Cake or Death experience is luxury treat, from it dropping on your doormat, right through to the last mouthful. These aren't any ordinary brownies. Cake or Death brownies are everything a brownie should be and more; fudgey, indulgent and very moreish, all made with the very best quality plant-based ingredients. Both vegans and non-vegans alike are huge fans. They make the perfect treat for yourself or a friend.
Plant-based
Not only are our products vegan, many are also gluten free
Letterbox friendly
Next day delivery across the UK including NI and CI
Personalised gift message
Say it with brownies (and a lovely little note)
Plastic-free packaging
Recycle and compost it, you won't find any plastic with us
Ratings and reviews
Ratings and reviews
"These are the best brownies I have ever tried and if I didn't know I would never have guessed they were vegan"
Rachel
"Best brownies I've ever had! My non-vegan friends also adore these. If only I had the recipe… Staff are always lovely and the aesthetic is top-notch!"
Bethany
"My wife has ordered these brownies for me as a gift a couple of times and they might be the best thing I've ever eaten. No exaggeration, they are obscenely good."
Ian
"Amazing! These were sent to me in the post from a friend and was such a lovely surprise. The tastiest vegan brownies I have ever had and beautifully packaged too. Will be buying for myself and for friends in future. Thank you."
Abigail